History of Australian Rodeo
The origins of Australian rodeo are in the outback with the stockmen and drovers who pioneered the overland stock routes and the huge sheep and cattle stations of the north. No other sport can claim such a strong link to the day to day skills and practices of the working stockmen and drover. Riding a rough horse before starting a days work, or working with wild cattle in the rough and ready bronco yards of an outback station was and still is a part of everyday life.
Australian rodeo can be traced back some 150 years to informal matches between renowned horse breakers or rough riders and outlaw buckjumpers. Most stations boasted a horse that can't be ridden and any man who claimed he could ride a bit was sure to be put to the test.
The best rough riders went on to make a living from exhibitions and from rodeo competition. Today, their successors take their chances week after week on the highly competitive professional rodeo circuits in Australia, Canada and the United States.Rodeo is a traditional part of Australian outback life and its sporting heritage. It is also one of the social and sporting highlights of the year for many rural and regional communities, raising millions of dollars for community projects and charities.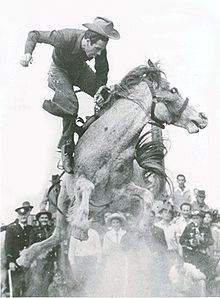 Alan Wood on the great bucking mare, Curio.
Photo taken shortly before Alan regained his seat and went on to make the required time.

Newspaper reports recorded public roughriding events that took place in Victoria during the 1880s. These events included competitions for roughriding and bullock-throwing which was accomplished by riding up to bullock, grabbing its tail and throwing it off balance and then tying its legs. This competition arose from the stockman's skill in capturing feral or wild cattle.
The National Agricultural Society of Victoria ran one of the earliest recorded events in 1888, when a roughriding competition was held at their annual show.
During the 1890s there were many Australian and some international Wild West shows travelling the country. Wirth's Wild West Show travelled Australia until the banks' crash in 1893. They then toured England, India, Malaysia, New Zealand, South Africa and South America.
Proprietors such as Thorpe McConville, plus the outstanding buckjump riders; Lance Skuthorpe, the Gill family,Bibby Bros and Colin McLeod ran travelling roughriding shows. These shows increased the popularity of roughriding throughout much of Australia.[not in citation given] The travelling rodeos provided displays of riding bucking horses and bullocks, whipcracking, performing dogs and ponies and rope-spinning. By 1930 the Great Depression left only a few of these travelling shows on the road.
The equipment used by early roughriders consisted of a poley saddle or exercise pad, without stirrups or a crupper and a chest rein that ran from the girth to the rider's hand, leaving him without any control of the buckjumper's head. Bullock and bareback riders were still permitted to use two hands at this stage.

During 1927 a rodeo organized in Adelaide, South Australia attracted an estimated 50,000 spectators. Melbourne, Victoria staged a Wild West Show in 1934 which hired top Australian riders as well as a number of visiting cowboys. Following the success of the rodeo events at the Melbourne show the Royal Agricultural Society of New South Wales (NSW) planned an international rodeo for its 1935 Sydney Royal Easter Show and continued to invite international cowboys to its show.
Bushmen's Carnivals, the Australian equivalents of American rodeos, originated in Northern New South Wales in the 1920s and were well established by the 1930s. In 1930 Warwick, Queensland added the American-style contests of clowns, ropers and trick riders to its programme to promote more public interest. These carnivals were sports days that held the main event of campdrafting, plus buckjumping, bullock (or steer) riding and bullock throwing. During World War II many Queensland towns such as Charters Towers, Goondiwindi, Hughenden, Ingham, Rockhampton and Toowoomba held rodeos to raise money for hospitals and returned soldiers. The end of the war saw a revival of the carnivals and the birth of the tradition of donating proceeds to local charities, service organizations and sporting clubs.
Some small town rodeos such as those held at Burketown, Queensland (population 173) have donated around $36,000 to the Royal Flying Doctor Service. Bushmen's carnivals are held in the main country towns of the cattle country across the eastern states of Australia and South Australia.

In 1944 Sydney was the centre of rodeo being the home to the Ladies' Rodeo Club, and competitions that attracted all of the top roughriders, plus American cowboys from Arizona, California and Texas.
By the late 1960s Australian roughriders were known as cowboys and rode broncs instead of buckjumpers. American clothing now, too, replaced the previously worn R.M. Williams clothing. Americans and Canadians were many decades ahead of Australia in developing and promoting rodeo as a professional sport and entertainment.
Mount Isa, Queensland staged a major rodeo in 1977 which attracted 30,000 people and in September 1978 riders from the USA, Canada, New Zealand and Australia competed in the World Rodeo Titles at the showground for prize-money totaling $60,000. The Royal Agricultural Society (RAS) Show in Sydney held rodeo competitions in 1980 between Australian and Canadian roughriders and have continued to have other international competitions. In 1982 an Australian Bushmen's Carnival Association team competed in the North American Rodeo Commission's championships in Denver, Colorado, finishing sixth overall.